"Never left without saying goodbye.
Playing a piano alone in the castle, living a mysterious existence… Deemo. One day, a little girl with a forgotten past falls from the sky. The incredible inhabitants of the castle, a magic tree powered by music, the girl who lost her memories, and Deemo. This is a story of love, warmth and dreams that they've all helped compose.
Beloved by players all over the world, the rhthym game DEEMO has finally begun the process of becoming an animated film production." ─ Intro to the film
DEEMO / THE MOVIE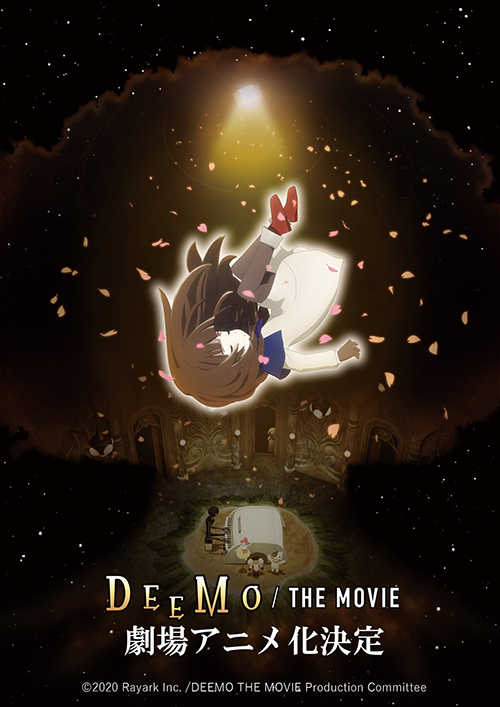 During ANIME - NYC 2019 held in New York on November 15th, Rayark Inc. and the well-known animation company, Production I.G, announced the project for an animated film production of DEEMO and released the promo video. The animated film is expected to be completed within 2020. Relevant information will be posted on the promo page (http://deemomovie.jp).
Ming-Yang Yu, CEO of Rayark Ink. & Ishikawa Mitsuhisa, President of Production I.G
STAFF
- Original Story: DEEMO by Rayark Inc.
- Script: 藤咲淳一・藤沢文翁
- Character Design: めばち
- Impression Design: 吉田ヨシツギ
- Art: 小倉宏昌
- Art Settings: 吉田大洋
- Color Design: 片山由美子
- CG Animation Supervision:鈴木寛
- Modeling Supervison: 今泉隼介
- Technical Director: 田村耕一郎
- 3DCG Production: ブロス
- Shooting / Grading: 江面久 / 齋藤瑛
- Editor: 村上義典
- Sound Suppervision: 明田川仁
- Sound Production: マジックカプセル
- Theme Song: 梶浦由記
- Vice Supervisor: 平峯義大
- Supervisor: 松下周平
- Chief Supervisor: 藤咲淳一
- Animation Production: SIGNAL.MD Production I.G
- Producer: PONY CANYON