Inside an abandoned laboratory, the green, ambiguous lifeform MO awakens. Following the eerie sounds of giant machinery, MO gradually leaps onward, groping about in an advanced facility that has been invaded by otherworldly beasts and local inhabitants. Besides running into abnormal humans and a series of dangerous machines, he'll also gradually unlock the riddle of why this disaster happened in the first place.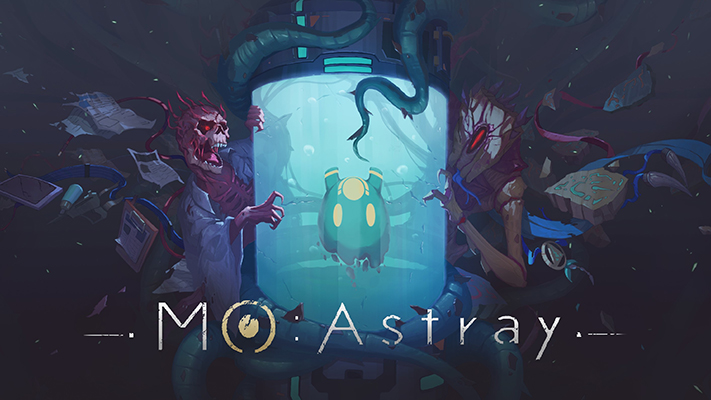 Average Age of Under 25 for Members of Indie Development Team Archpray
"We've been so fortunate to make the game that we wanted to make," said the game's producer, Ching-Yi Hou. In the southern part of Taiwan, within a small school classroom about 33 square meters in size, he and 9 others are glued to their computer screens, buried in work, adjusting the difficulty level and visuals of MO: Astray to their ideal state.
They are the indie development team Archpray, and the average age of their team members is under 25 years old. 3 years ago, their team consisted of only 6 members. When they entered their school graduation project, MØ-Macrophages, in a game competition, their goal was simple: "To mark a perfect ending for our four years at university". At that time, the members of Archpray were already prepared to start looking for jobs after graduation or continue with their education.
The truth is, even if a team of student's thesis project performs phenomenally at both a student game competition and a school's thesis presentation conference, due to a lack of resources or a lack of understanding about the market, it is rare that a team can stay together after graduation and turn their project into a viable product, thereby becoming a successful indie development team. "Even if you read a lot of game development material, most people have to wait a long time before actually producing a game that they have developed," said Ching-Yi Hou.
Working with Rayark Helped the Game Move Closer to the Market
When MØ-Macrophages entered 2016's 巴哈姆特ACG創作大賽 (a competition expo), one of the judges happened to be the CEO of Rayark, Ming-Yang Yu, who was astonished at how good the version for the competition was.
At that time, Rayark had been established for 5 years, whose games had already accumulated close to 80 million downloads on mobile phones and game consoles. They had produced Cytus, Mandora, Implosion, DEEMO, and VOEZ, all of which had received handpicked recommendations on various platforms, as well as positive responses from gamers.
Ming-Yang Yu notes that when Rayark was starting out as a team of less than 10 indie developers, they had faced many difficulties that a small team will face. That included schedule control, dealing with language localization and sound/audio effects. He wanted to help the development team through industrial-academic cooperation. "I hope that the experience we've developed regarding the market and standards of quality can allow Archpray's work to shine for the entire world," said Ming-Yang Yu.
After a few talks and understanding, Archpray felt that Rayark really liked their game and that they truly hoped to help the game reach a wider audience. That's how Rayark came to supervise Archpray as they produced the game, eventually turning MØ-Macrophages into MO: Astray.
After 3 Years of Honing and Clashing, the Game's Ideal Version Emerges
Starting with the team giving Rayark a new version every month, the develop-ment team adjusted the game's content. They hoped to maintain the indie game style while still producing a product that would work in the market. It included beta testing, balancing out the levels, meticulous visuals and control modes, etc. Cooperating for close to 3 years, Rayark provided advice and resources, with the goal of helping this game reach the market smoothly.
During their cooperation, there was an adjustment period for both sides on how the work should be, as well as discussions and clashes of opinions. All the way until this week, when the final and most optimal version of the MO: Astray was put forth, ready for the market on 10/25.
Ming-Yang Yu expressed, "Ever since we first met them until now, the team's speed of progress has been shocking. They've already turned from students into extremely professional developers. The final results of this game are beyond what we ever imagined."
  MO: Astray is a pixelated, platform action puzzle-solving game, distributed by Rayark Inc., that will be available on the Steam platform on 10/25 worldwide (http://short.rayark.com/MOAstray).
■ MO: Astray Facebook Page:
https://www.facebook.com/MOAstray/
■ MO:Astray Twitter:
https://twitter.com/moastrayrayark
■ MO:Astray Official Site:
https://www.moastray.game
■ MO: Astray Discord Forum:
http://short.rayark.com/MOdiscord